17.08.2018
Interview with Jonas Rosin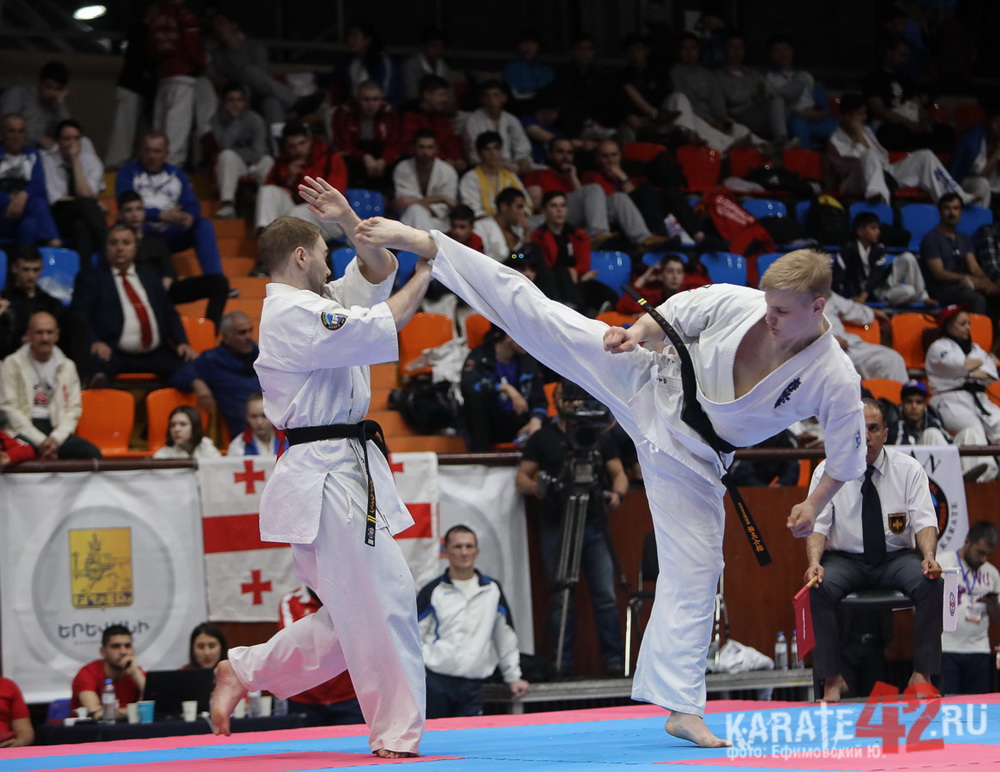 afternoon. This past season was very successful for you. You became the silver medalist of the world championship KWU, as well as the champion of Europe IFK. How did you achieve these results?
The last season was rather successful for me. I think this success derives from working daily on both my strengths and weaknesses. This combes with many years of experience in high-level competitions. I also believe that success begets success, and my confidence in my own strength has also risen.
Your manner of fighting consists of a constant pressure on your opponent. In the European championship you demonstrated very powerful karate. Having entered the heavyweight class, do you feel more comfortable on the tatami?
I feel fairly comfortable in both the middle and heavyweight class. In the middleweight I feel physically stronger than the majority of my opponents. In the heavyweight class I feel an advantage in both speed and endurance over my opponents. This way, both categories have their own advantages for me, I simply change my style slightly in order to play up my strengths in each.
You were present at the Russia championship AKP. Who did you remember? Did you get any new insights for future use?
In my view, Artem Nazertyan is the best fighter that currently performs in Kyokushinkai, and so it is always interesting for me to observe his showings. I also watched Alexander Drozd. We trained together and often helped each other. I am glad that he won his category. It was also interesting to observe the changes in the rules, how the fighters used pushes, and when the judges decided to give warnings or not. This is something that I should begin to incorporate into my own preparations.
Ahead is the professional fight by WFKO rules in Japan. Have you previously met with fighters from Japan?
Yes, I have experienced fights with Japanese athletes with mixed results, but I am confident in my abilities.
Your opponent already has a successful experience of performing by the professional rules of the WFKO. Have you seen his fights? What can you say about your opponent?
I saw his fight in the WFKO and several others. He has a special style that is not very common among European fighters. So it will be a little different, but my sparring partners try to reproduce his fighting style as closely as possible during practice. We have also observed his strengths and weaknesses, and formed a plan for the match that will best suit me. I am confident in my skill and our preparation methods, but he will be a serious opponent.
Where will you be preparing for the fight?
Mostly I will be preparing in my dojo in Sweden, and aside from this I have trained in the KWU camp in Varna. The last weeks I will spend in Saint Petersburg with Dmitry Savelyev and Victor Lutinsky; this will be a really good last practice before the fight.
Thank you. Best of luck in the coming match!
Thank you for your questions.
Sincerely, Jonas Rosin.